EVERKI Versa Premium Briefcase 17.3' Checkpoint friendly design, Corner-guard protection system, Double-sided organizational panel, Trolley handle pass through strap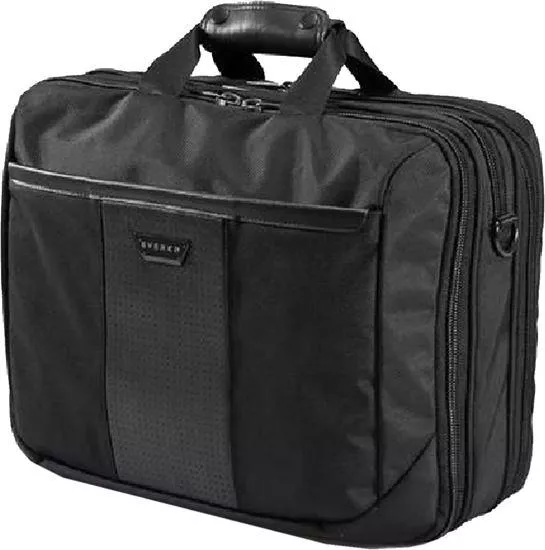 Manufacturer: EVERKI
Category: Uncategorized
Get it now
EKB427BK17
Our Price: NZ$228.39 inc GST
Stock at this price: 5
Ships from: Albany,Auckland
Price & stock last updated: 2022-06-30 12:05:07
We have 2 suppliers for this product
For pickups, choose the closest location to you. Otherwise, choose the cheapest or one that is in stock
Supplier 1
Product Name: EKB427BK17
Price 1: NZ$228.39 inc GST
Stock: 5
Available at: Albany,Auckland
Price & stock last updated: 2022-06-30 12:05:07
+Price History:
| Date: | Price: |
| --- | --- |
| 2019-10-21 | NZ$177.65 |
| 2020-01-17 | NZ$183.49 |
| 2020-01-28 | NZ$177.65 |
| 2020-01-29 | NZ$175.15 |
| 2020-01-31 | NZ$174.31 |
| 2020-04-21 | NZ$177.45 |
| 2020-04-22 | NZ$186.79 |
| 2020-05-25 | NZ$661.60 |
| 2020-11-05 | NZ$661.60 |
| 2020-11-05 | NZ$186.79 |
| 2020-12-29 | NZ$149.43 |
| 2021-01-05 | NZ$186.79 |
| 2021-04-07 | NZ$194.27 |
| 2021-06-09 | NZ$203.10 |
| 2021-06-18 | NZ$194.27 |
| 2022-04-28 | NZ$0.00 |
Doolz ID:
52234007
Supplier 2
Product Name: EKB427BK17
Price 2: NZ$228.39 inc GST
Stock: 4
Available at: WOOLSTON CHRISTCHURCH
Price & stock last updated: 2022-06-30 12:00:08
+Price History:
| Date: | Price: |
| --- | --- |
| 2019-10-31 | NZ$177.65 |
| 2020-01-17 | NZ$183.49 |
| 2020-01-28 | NZ$177.65 |
| 2020-01-29 | NZ$175.15 |
| 2020-01-31 | NZ$174.31 |
| 2020-04-21 | NZ$177.45 |
| 2020-04-22 | NZ$186.79 |
| 2020-05-25 | NZ$661.60 |
| 2020-05-26 | NZ$186.79 |
| 2020-11-05 | NZ$661.60 |
| 2020-11-05 | NZ$186.79 |
| 2020-12-29 | NZ$149.43 |
| 2021-01-05 | NZ$186.79 |
| 2021-04-07 | NZ$194.27 |
| 2021-06-09 | NZ$203.10 |
| 2021-06-18 | NZ$194.27 |
Doolz ID:
56363660
Every effort is made to ensure the image(s) and/or product details are correct, but we cannot guarantee that they are. You should always check with us FIRST if you have specific requirements.
Info
EVERKI Versa Premium Briefcase 17.3' Checkpoint friendly design, Corner-guard protection system, Double-sided organizational panel, Trolley handle pass through strap
Description
The Versa line packages versatility and organisation in tastefully compact form. Everki's latest addition to its selection of laptop briefcases rounds out its range of sizes with a Checkpoint-Friendly laptop compartment equipped to hold up to 17.3" laptops. This bag presents style and workplace functionality with the rugged durability the globetrotting professional requires. Its tasteful black exterior is fashioned from high-quality, water-resistant Ballistic nylon and Everki's patent-pending corner-guard protection system shields laptops from damage to the areas manufacturers have cited as most frequently in need of repair.
The Versa Series Of Laptop Bags
When you're looking for a professional laptop bag with classic styling, top of the line materials, and innovative organizational capabilities, choose the Versa series of laptop bags. EVERKI's Versa series is the perfect marriage of subtle style and extreme organization, with all the attention to detail and intuitive features you've come to expect from EVERKI bags. These bags are dressed to impress with high-quality ballistic nylon, clean lines and sleek profile, and enhanced with black on black premium leather accents and handles. Each bag in the Versa series ensure that you can remain tailored, structured and organized when you travel or walk into a business meeting. The Versa series of laptop bags – classic style, contemporary features.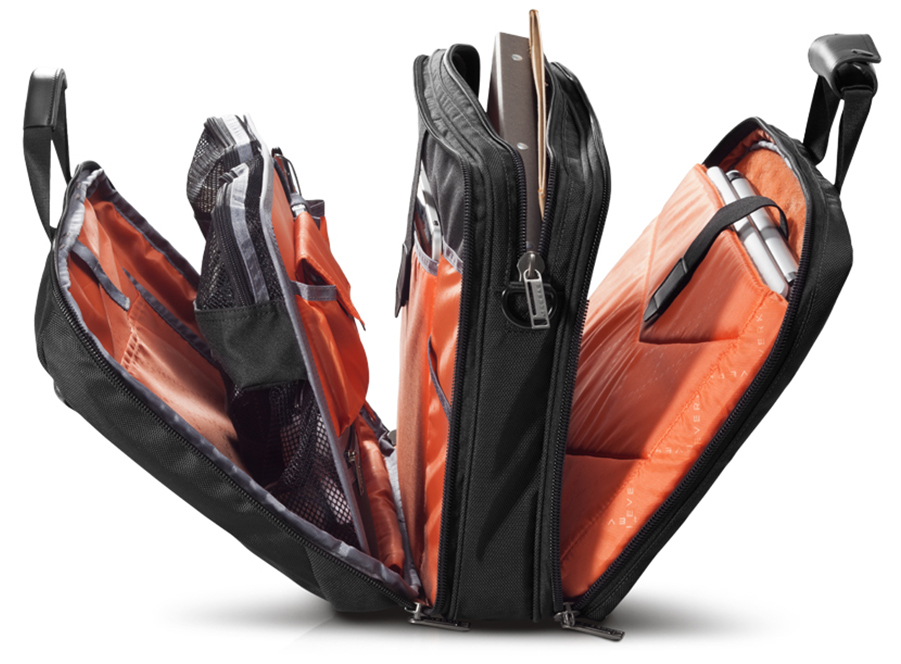 The Highly Organized, Premium Briefcase For The Mobile Professional
The Versa Premium Laptop Briefcase makes the most of every inch of space on the inside, and still wows with its stylish exterior. The most important piece of equipment – your 16-inch laptop – is secured in a felt-lined pocket with our patented corner-guard protection system located in its own dedicated Checkpoint Friendly compartment. You'll also find a smart, double- sided organization panel replete with pockets and slots on both sides, a padded, felt-lined iPad/Kindle/tablet slot located safely near the center of the bag, and a separate compartment which reserves space for important files and documents. Plus, you won't find the Versa Briefcase short on style with its black on black exterior, water-repellent ballistic nylon and premium leather accents. Professionalism, quality, style.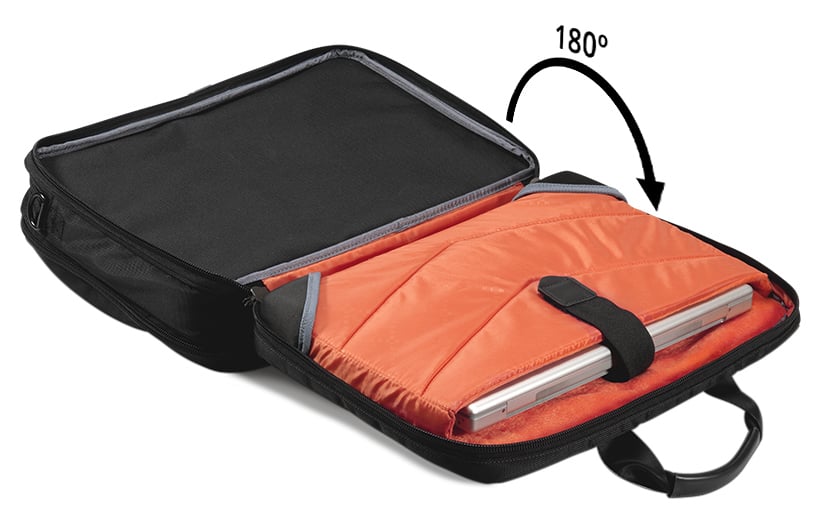 Travel Friendly
Airport security can be a hassle, so we designed the Versa Briefcase with our hassle-free 180 degree fold-out design. The Checkpoint Friendly laptop design allows you to breeze through airport security without removing your device from its pocket. Simply open the Versa up 180 degrees, lay it flat, and your bag will quickly pass through the scanner. Should you need to remove your laptop, you can take it out and replace it without rummaging through your briefcase or removing other contents.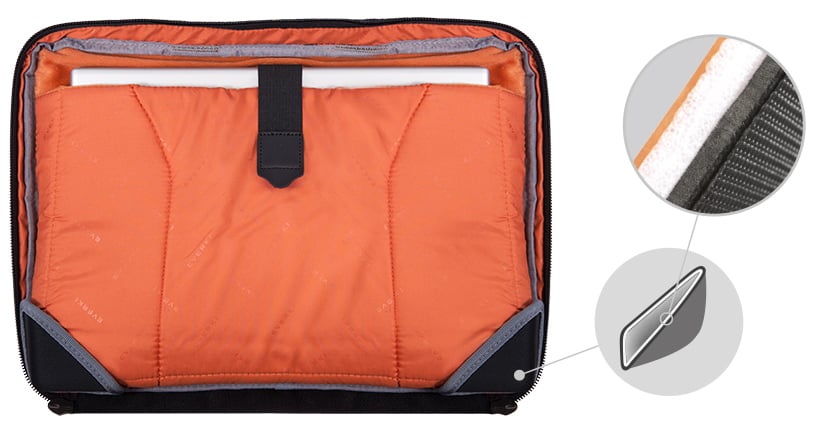 Patented Corner-Guard Protection System
When you travel with your briefcase as your mobile office, your laptop has to be securely protected. That's why we've engineered the Versa Briefcase with extra padding in the lining of the laptop pocket and molded-to-fit laptop corner guards. Our patented corner-guard protection system uses form-fitting corners to wrap snugly around the bottom of your laptop pocket, to protect against knocks and bumps – or if you accidentally set your bag down too abruptly. The shock-absorbing system of the Versa Briefcase will give you peace of mind, knowing your laptop is safe inside your bag.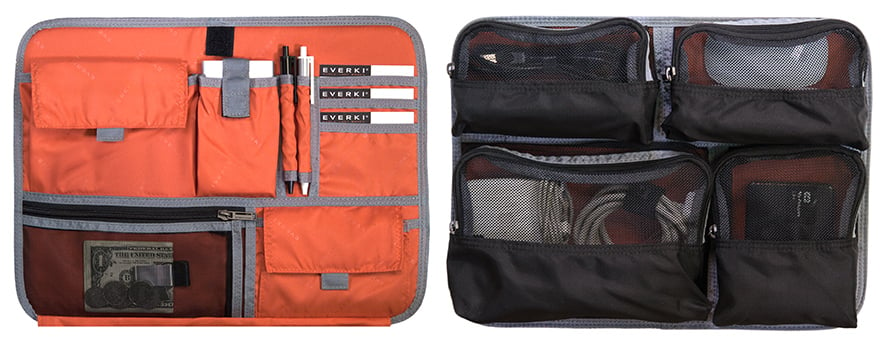 Double-Sided Structured Organization Panel
The Versa Briefcase's well-ordered interior makes it an absolute asset for the traveling professional. Its main compartment features an innovative, structured panel with two sides of pockets, slots and pouches for maximum organization. Hidden out of sight on the backside of the panel, you'll find several zippered, see-through pockets for tidy storage of cables, peripherals or toiletries; while the visible business side of the panel is equipped with plenty of individual spaces for business cards, pens and passport. Plus, everything stays put when the panel is securely fastened with the top strap. Maximize efficiency, minimize mess.
Premium Leather Handles And Accents
To nicely round out the classic styling, we used premium leather accents on the black on black Versa Briefcase which are subtle, yet striking. Professional enough to take into a board meeting, yet spacious enough for a business flight. Classic, subtle, sleek.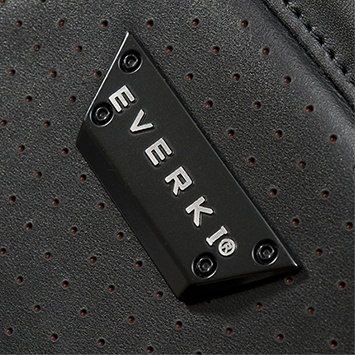 Trolley Handle Pass-Through
When traveling with many bags, the trolley handle pass-through on the back of the Versa Briefcase allows you to double your efforts. Simply slip the Versa onto the handle of your luggage and you're ready to wheel through the airport.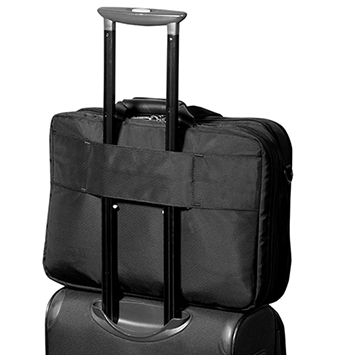 Ergonomic Two-Way Adjustable Shoulder Strap
Rushing through the airport is no problem with the Versa Briefcase, even with a full load. An ergonomic, two-way adjustable shoulder strap allows fine adjustments for maximum comfort; and its wide, soft, leather pad prevents slipping while it also pitches in to absorb some of the weight.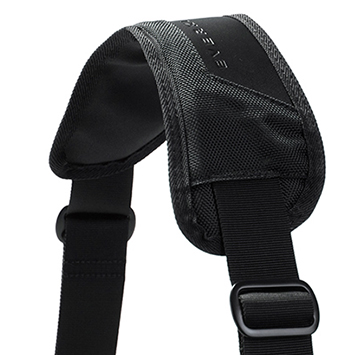 High-Contrast Lining
All EVERKI interiors are stylish, high-contrast orange because we know how frustrating it is to mistakenly leave a compartment unzipped, and how difficult it is to organize against a black background. Savvy and Stylish.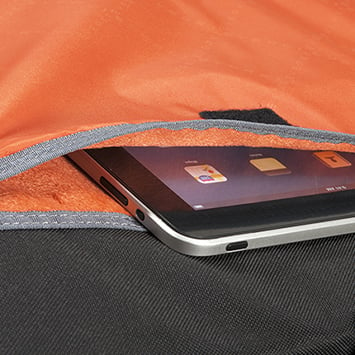 Peace Of Mind
EVERKI makes products of value because we value our relationships. Every product EVERKI makes comes with our Limited Lifetime Warranty which covers manufacturing defects over the entire life of the product. EVERKI. We give you peace of mind.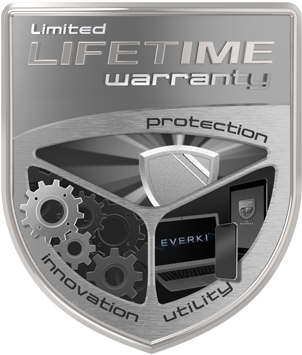 Specifications
UPC Code
874933002147
Fits Laptops up to
43.94cm
Laptop Compartment
41.9 x 3.81 x 28cm
External Dimensions
46 x 15 x 34cm
Capacity
25L
Bag Weight
2.48kg
Lifetime Hits: 98 Doolz ID: 52234007 Price is subject to change without notice. Price and Stock last updated 30 June 2022