StarTech.com 15ft Cat 6 Blue Molded RJ45 UTP Gigabit Cat6 Patch Cable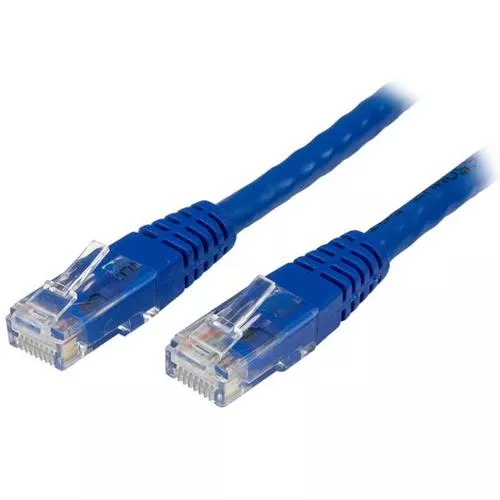 Manufacturer: STARTECH
Category: Networking Cables
Short Description: StarTech.com 15ft Cat 6 Blue Molded RJ45 UTP Gigabit Cat6 Patch Cable, 4.6 m, Cat6, U/UTP (UTP), RJ-45, RJ-45, Blue
Get it now
15 ft Blue Molded Cat6 UTP Patch Cable
Our Price: NZ$9.66 inc GST
Stock at this price: Out of stock!
ETA is the 5th January 2021
Ships from: Manukau, Auckland
Log in to use Stock Alerts
Price & stock last updated: 2020-12-01 05:02:09
We have 1 supplier for this product
For pickups, choose the closest location to you. Otherwise, choose the cheapest or one that is in stock
Supplier 1
Product Name: 15 ft Blue Molded Cat6 UTP Patch Cable
Price 1: NZ$9.66 inc GST
Stock: Out of stock!
ETA is the 5th January 2021
Available at: Manukau, Auckland
Log in to use Stock Alerts
Price & stock last updated: 2020-12-01 05:02:09
+Price History:
| Date: | Price: |
| --- | --- |
| 2019-06-11 | NZ$7.41 |
| 2019-08-26 | NZ$7.40 |
| 2019-08-27 | NZ$7.41 |
| 2020-01-17 | NZ$7.65 |
| 2020-01-29 | NZ$7.41 |
| 2020-01-30 | NZ$7.31 |
| 2020-02-01 | NZ$7.27 |
| 2020-04-23 | NZ$9.66 |
Doolz ID:
86124
Every effort is made to ensure the image(s) and/or product details are correct, but we cannot guarantee that they are. You should always check with us FIRST if you have specific requirements.
Info
StarTech.com 15 ft Cat 6 Blue Molded RJ45 UTP Gigabit Cat6 Patch Cable - 15ft Patch Cord - 15ft Gigabit Patch Cable
StarTech.com 15ft Cat 6 Blue Molded RJ45 UTP Gigabit Cat6 Patch Cable. Cable length: 4.6 m, Cable standard: Cat6, Cable shielding: U/UTP (UTP), Connector 1: RJ-45, Connector 2: RJ-45, Connector gender: Male/Male, Connector contacts plating: Gold, Data transfer rate: 1000 Mbit/s, Cable colour: Blue
Description
It-s all about selection. Choose the colors you want, the lengths you want, the styles you want Select from a wide variety of colors, lengths, and styles to complete your network solutions. That way, you can organize your cable runs and identify network connections faster, easily find the cables that best suit your network connection requirements, and pick the styles, either snagless - perfect for concealed cable runs - or molded - perfect for strengthening the connector to prevent damage. 100% copper for outstanding value Get the highest value for your cable investment with our Cat 6 cables, each one manufactured using high-quality copper conductors. 24-gauge wire for high-performance network connections Ensure high-performance capability for your demanding Ethernet applications, such as Power-over-Ethernet, using cables that include 24 AWG copper. 50-micron gold connectors provide peak conductivity Rely on our RJ45 connectors to deliver optimum conductivity while eliminating signal loss due to oxidation or corrosion. Lifetime Warranty We back all our cables with a lifetime warranty.
Specs
| | |
| --- | --- |
| Cable length | 4.6 m |
| Cable standard | Cat6 |
| Cable shielding | U/UTP (UTP) |
| Connector 1 | RJ-45 |
| Connector 2 | RJ-45 |
| Cable colour | Blue |
| Connector gender | Male/Male |
| Connector contacts plating | Gold |
| Jacket material | Polyvinyl chloride (PVC) |
| Cable rating | CMG (CM) |
| Cabling technology | 10/100/1000Base-T(X) |
| AWG wire size | 24 |
| Data transfer rate | 1000 Mbit/s |
| Frequency | 500 MHz |
| Plug and Play | Y |
| RoHS compliance | Y |
| Certification | TIA/EIA-568-B.1-2001 T568B, ETL |
| Weight | 200 g |
| Quantity per pack | 1 pc(s) |
| Package width | 200 mm |
| Package depth | 220 mm |
| Package height | 18 mm |
| Package weight | 201 g |
Lifetime Hits: 28 Doolz ID: 86124 Price is subject to change without notice. Price and Stock last updated 01 December 2020