Honeywell Genesis 7580g Fixed bar code reader 1D/2D Black, Silver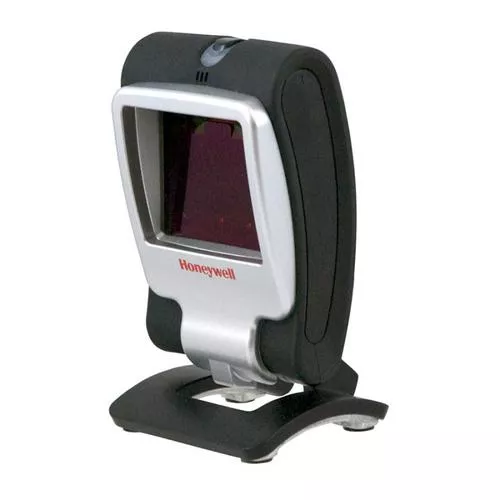 Manufacturer: HONEYWELL
Category: Barcode Readers
Short Description: Honeywell Genesis 7580g, Fixed bar code reader, 1D/2D, 0 - 100000 lx, -70 - 70-, USB, RS-232, RS-485, Keyboard wedge, Black, Silver
Get it now
HONEYWELL SCANNER-ONLY: 1D, PDF417, 2D, BLACK, RS232-TTL/USB/KBW, IBM 46XX RS485 VIA CABLE
Our Price: NZ$664.72 inc GST
Stock at this price: Out of stock!
No ETA available
Ships from: Mount Wellington, Auckland
Log in to use Stock Alerts
Price & stock last updated: 2022-05-23 06:00:17
We have 1 supplier for this product
For pickups, choose the closest location to you. Otherwise, choose the cheapest or one that is in stock
Supplier 1
Product Name: HONEYWELL SCANNER-ONLY: 1D, PDF417, 2D, BLACK, RS232-TTL/USB/KBW, IBM 46XX RS485 VIA CABLE
Price 1: NZ$664.72 inc GST
Stock: Out of stock!
No ETA available
Available at: Mount Wellington, Auckland
Log in to use Stock Alerts
Price & stock last updated: 2022-05-23 06:00:17
+Price History:
| Date: | Price: |
| --- | --- |
| 2019-08-09 | NZ$578.02 |
| 2020-01-17 | NZ$597.02 |
| 2020-01-22 | NZ$617.85 |
| 2020-01-29 | NZ$598.19 |
| 2020-01-30 | NZ$589.77 |
| 2020-02-01 | NZ$586.96 |
| 2020-04-21 | NZ$617.85 |
| 2021-01-11 | NZ$609.40 |
| 2021-03-17 | NZ$615.50 |
Doolz ID:
23263234
Every effort is made to ensure the image(s) and/or product details are correct, but we cannot guarantee that they are. You should always check with us FIRST if you have specific requirements.
Info
1D/2D, RS232-TTL/USB/KBW, 100000 Lux, IBM 46xx RS485 via cable
Honeywell Genesis 7580g. Type: Fixed bar code reader, Scanner type: 1D/2D, Light levels (direct sunlight): 0 - 100000 lx. Standard interfaces: USB, RS-232, RS-485, Keyboard wedge. Product colour: Black, Silver. Power consumption (typical): 2 W, Power consumption (standby): 0.5 W, Input voltage: 5.5 V. Weight: 340 g, Width: 83 mm, Depth: 80 mm
Description
Honeywell-s Genesis TM Honeywell-s Genesis 7580g, the world-s first presentation area-imaging scanner engineered to decode all standard 1D, PDF and 2D codes, provides enhanced productivity and revolutionary imaging technology in an elegant, yet durable design. Powered by Adaptus Imaging Technology 6.0, the Genesis 7580g is redefining industry standards for imaging solutions. Breakthrough performance and a versatile form factor make this product suitable for environments ranging from manufacturing to healthcare to retail POS. Aggressive reading of bar codes on highly reflective surfaces, such as mobile phone screens, eliminates the need to purchase additional specialty hardware. Patented CodeGate technology along with an activation button support menu-scanning and other targeted-scanning applications. Automatic cable detection and configuration simplifies migration to a new interface by eliminating the need to scan programming bar codes. Three additional patented technologies augment the Genesis 7580g-s unmatched feature set: Shielded LEDs minimize the intense flashing common among other area imagers. CodeSelect allows the Genesis 7580g to capture up to 15 bar codes in a single flash and output data in any predetermined order. TotalFreedom expands scanner functionality by allowing decoding and formatting plug-ins to be loaded directly onto the Genesis 7580g, enabling enterprises to rapidly support proprietary or newly-developed symbologies.
Specs
| | |
| --- | --- |
| Type | Fixed bar code reader |
| Scanner type | 1D/2D |
| Light levels (direct sunlight) | 0 - 100000 lx |
| Pitch reading angle | -70 - 70- |
| Motion tolerance (cm/s) | 200 |
| Standard interfaces | USB, RS-232, RS-485, Keyboard wedge |
| Product colour | Black, Silver |
| Power consumption (typical) | 2 W |
| Power consumption (standby) | 0.5 W |
| Input voltage | 5.5 V |
| Weight | 340 g |
| Width | 83 mm |
| Depth | 80 mm |
| Height | 150 mm |
| Operating temperature (T-T) | 0 - 40 -C |
| Storage temperature (T-T) | -40 - 60 -C |
| Operating relative humidity (H-H) | 0 - 95% |
Lifetime Hits: 104 Doolz ID: 23263234 Price is subject to change without notice. Price and Stock last updated 23 May 2022