StarTech.com 6-Slot Thunderbolt 3 SD Card Reader - Portable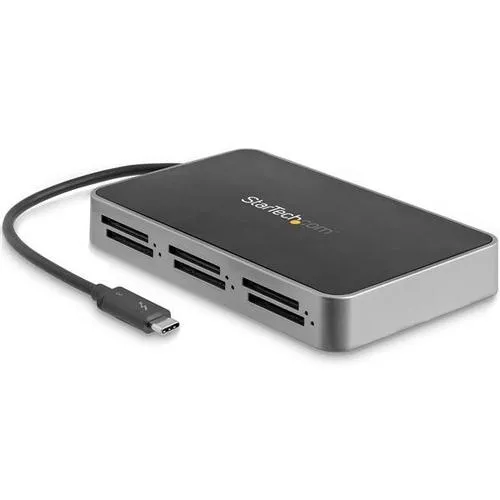 Manufacturer: STARTECH
Category: Card Readers
Short Description: StarTech.com 6-Slot Thunderbolt 3 SD Card Reader - Portable, MMC,SD,SDHC,SDXC, Black,Silver, 40000 Mbit/s, Plastic, Activity, CE, FCC, TAA, RoHS
We have 1 supplier for this product
Supplier 1
Product Name: Card Reader - Thunderbolt 3 - SD 4.0
Price 1: NZ$368.92 inc GST
Stock: 2
Ships from: Manukau, Auckland
Price & stock last updated: 2020-09-21 03:06:49
+Price History:
| Date: | Price: |
| --- | --- |
| 2019-06-11 | NZ$282.97 |
| 2019-08-26 | NZ$343.62 |
| 2019-08-27 | NZ$282.97 |
| 2020-01-17 | NZ$292.27 |
| 2020-01-29 | NZ$282.97 |
| 2020-01-30 | NZ$278.98 |
| 2020-02-01 | NZ$277.65 |
| 2020-04-23 | NZ$368.92 |
Doolz ID:
85324
Every effort is made to ensure the image(s) and/or product details are correct, but we cannot guarantee that they are. You should always check with us FIRST if you have specific requirements.
Info
StarTech.com 6-Slot Thunderbolt 3 SD Card Reader - Portable
StarTech.com 6-Slot Thunderbolt 3 SD Card Reader - Portable. Compatible memory cards: MMC,SD,SDHC,SDXC, Product colour: Black,Silver, Data transfer rate: 40000 Mbit/s. Interface type: Thunderbolt 3. Width: 82 mm, Depth: 135 mm, Height: 19 mm. Quantity per pack: 1 pc(s), Package width: 145 mm, Package depth: 210 mm
Description
This Thunderbolt 3 SD card reader and writer lets you access up to six SD cards at the same time from your laptop. It-s perfect for when you are working offsite on assignment. The reader is also ideal for creative professionals such as photographers and videographers who work with 4K and 3D content. Portable Design Access your photos and videos anywhere you go. The portable SD card reader has a sleek, compact design for maximum convenience. The integrated Thunderbolt 3 cable lets you quickly access your data without having to stop and find a cable. Plus, the reader is powered through the Thunderbolt 3 port on your laptop. There-s no need to carry a separate power adapter. Multi-Card Reader Supports All SD Card Types The 6-slot Thunderbolt 3 card reader supports all SD cards: SD (Secure Digital), SDHC (Secure Digital High Capacity) and SDXC (Secure Digital Extended Capacity). Each slot is UHS-II enabled so that you can access data at up to UHS-II speeds. The reader also supports Micro SD cards when connected through an adapter. Thunderbolt 3 Support The reader transfers files between a Thunderbolt 3 computer or tablet and SD cards. You can connect it at the end of a daisy chain and expect all of the security and benefits that you would from any Thunderbolt 3 product. 6SD4FCRTB3C is TAA compliant and comes with a StarTech.com 2-year warranty and free lifetime technical support.
Specs
| | |
| --- | --- |
| Compatible memory cards | MMC,SD,SDHC,SDXC |
| Internal | N |
| Product colour | Black,Silver |
| Data transfer rate | 40000 Mbit/s |
| Housing material | Plastic |
| Plug and Play | Y |
| LED indicators | Activity |
| Certification | CE, FCC, TAA, RoHS |
| Interface type | Thunderbolt 3 |
| Width | 82 mm |
| Depth | 135 mm |
| Height | 19 mm |
| Weight | 90 g |
| Cable length | 0.217 m |
| Quantity per pack | 1 pc(s) |
| Package width | 145 mm |
| Package depth | 210 mm |
| Package height | 40 mm |
| Package weight | 110 g |
| Operating temperature (T-T) | 0 - 60 -C |
| Storage temperature (T-T) | -20 - 60 -C |
| Operating relative humidity (H-H) | 0 - 90% |
| Quick start guide | Y |
| Chips organisation | Intel - JHL6240, Texas Instruments - TPS65983, Genesys Logic - GL3226, ASMedia - ASM1061 |
Other Multimedia
Some of these may not exist; we do not manage these files
Lifetime Hits: 87 Doolz ID: 85324 Price is subject to change without notice. Price and Stock last updated 21 September 2020