Lenovo 4XB7A14051 internal solid state drive 3.5" 960 GB Serial ATA III 3D TLC NAND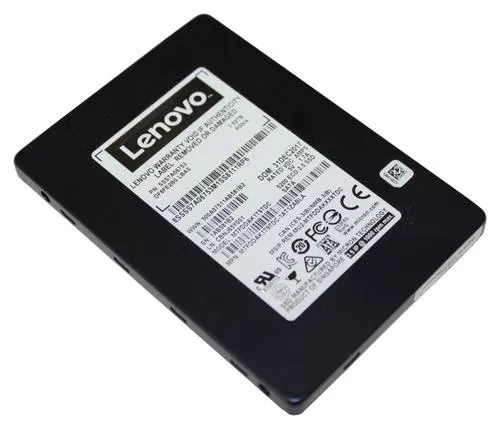 Manufacturer: LENOVO
Category: Internal Solid State Drives
Short Description: Lenovo 4XB7A14051, 960 GB, 3.5", 540 MB/s, 6 Gbit/s
Get it now
ThinkSystem ST50 3.5" 5200 960GB Entry SATA 6Gb Non Hot Swap SSD
Our Price: NZ$1,296.75 inc GST
Stock at this price: Out of stock!
No ETA available
Ships from: Mount Wellington, Auckland
This product is not currently available while out of stock. Subscribe to Stock Alerts below to get notified when it is available
Log in to use Stock Alerts
Price & stock last updated: 2021-08-05 06:00:14
We have 1 supplier for this product
For pickups, choose the closest location to you. Otherwise, choose the cheapest or one that is in stock
Supplier 1
Product Name: ThinkSystem ST50 3.5" 5200 960GB Entry SATA 6Gb Non Hot Swap SSD
Price 1: NZ$1,296.75 inc GST
Stock: Out of stock!
No ETA available
Available at: Mount Wellington, Auckland
This product is not currently available while out of stock. Subscribe to Stock Alerts below to get notified when it is available
Log in to use Stock Alerts
Price & stock last updated: 2021-08-05 06:00:14
+Price History:
| Date: | Price: |
| --- | --- |
| 2019-06-11 | NZ$407.54 |
| 2019-10-16 | NZ$730.29 |
| 2020-01-17 | NZ$754.29 |
| 2020-01-24 | NZ$780.15 |
| 2020-01-29 | NZ$755.33 |
| 2020-01-30 | NZ$744.69 |
| 2020-02-01 | NZ$741.14 |
| 2020-03-17 | NZ$879.18 |
| 2020-04-21 | NZ$1,076.22 |
| 2020-04-21 | NZ$1,132.86 |
| 2020-10-21 | NZ$2,208.34 |
| 2020-10-24 | NZ$1,296.75 |
Doolz ID:
175789
Every effort is made to ensure the image(s) and/or product details are correct, but we cannot guarantee that they are. You should always check with us FIRST if you have specific requirements.
Info
ThinkSystem ST50 3.5" 5200 960GB Entry SATA 6Gbit/s Non Hot Swap SSD
Lenovo 4XB7A14051. SSD capacity: 960 GB, SSD form factor: 3.5", Read speed: 540 MB/s, Write speed: 520 MB/s, Data transfer rate: 6 Gbit/s, Component for: Server/workstation
Description
The 5200 Entry SATA solid-state drives (SSDs) are SSDs for ThinkSystem servers. The drives use Micron 64-layer 3D NAND flash memory technology with a SATA 6Gbps interface and provide an affordable solution for read-intensive applications such as boot, web servers, lower data rate operational databases and analytics. This product guide provides essential presales information to understand the 5200 Entry SSD offerings, their key features and specifications, components and options, and configuration guidelines. This guide is intended for technical specialists, sales specialists, sales engineers, IT architects, and other IT professionals who want to learn more about the SSDs and consider their use in IT solutions. SSDs have a huge but finite number of program/erase (P/E) cycles, which affect how long they can perform write operations and thus their life expectancy. Enterprise Entry SSDs typically have a better cost per read IOPS ratio but lower endurance and performance compared to Enterprise Performance SSDs. SSD write endurance is typically measured by the number of program/erase cycles that the drive can incur over its lifetime, which is listed as total bytes written (TBW) in the device specification. The TBW value that is assigned to a solid-state device is the total bytes of written data that a drive can be guaranteed to complete. Reaching this limit does not cause the drive to immediately fail; the TBW simply denotes the maximum number of writes that can be guaranteed. A solid-state device does not fail upon reaching the specified TBW. However, at some point after surpassing the TBW value (and based on manufacturing variance margins), the drive reaches the end-of-life point, at which time the drive goes into read-only mode. Because of such behavior, careful planning must be done to use SSDs in the application environments to ensure that the TBW of the drive is not exceeded before the required life expectancy. For example, the 5200 Entry 3.8 4TB drive has an endurance of 7,700 TB of total bytes written (TBW). This means that for full operation over five years, write workload must be limited to no more than 4,219 GB of writes per day, which is equivalent to 1.1 full drive writes per day (DWPD). For the device to last three years, the drive write workload must be limited to no more than 7,032 GB of writes per day, which is equivalent to 1.8 full drive writes per day.
Specs
| | |
| --- | --- |
| SSD form factor | 3.5" |
| SSD capacity | 960 GB |
| Interface | Serial ATA III |
| Memory type | 3D TLC NAND |
| NVMe | N |
| Component for | Server/workstation |
| Hardware encryption | Y |
| Read speed | 540 MB/s |
| Write speed | 520 MB/s |
| Security algorithms | 256-bit WEP |
| Data transfer rate | 6 Gbit/s |
| Random read (4KB) | 95000 IOPS |
| Random write (4KB) | 28000 IOPS |
| Read latency | 200 -s |
| Write latency | 300 -s |
| S.M.A.R.T. support | Y |
| Hot-swap | Y |
| Uncorrectable Bit Error Rate (UBER) | <1 sector per 10^17 bits read |
| Mean time between failures (MTBF) | 2000000 h |
| TBW rating | 1750 |
| RoHS compliance | Y |
| Certification | CE, FCC, UL, BSMI, RCM, KCC RRL, W.E.E.E., TUV, VCCI, IC |
| Power consumption (average) | 6 W |
| Operating temperature (T-T) | 0 - 70 -C |
| Storage temperature (T-T) | -40 - 85 -C |
| Operating relative humidity (H-H) | 5 - 95% |
| Storage relative humidity (H-H) | 5 - 95% |
| Operating vibration | 3.13 G |
| Operating shock | 1500 G |
Lifetime Hits: 96 Doolz ID: 175789 Price is subject to change without notice. Price and Stock last updated 05 August 2021