StarTech.com Dual M.2 NGFF SATA Adapter with RAID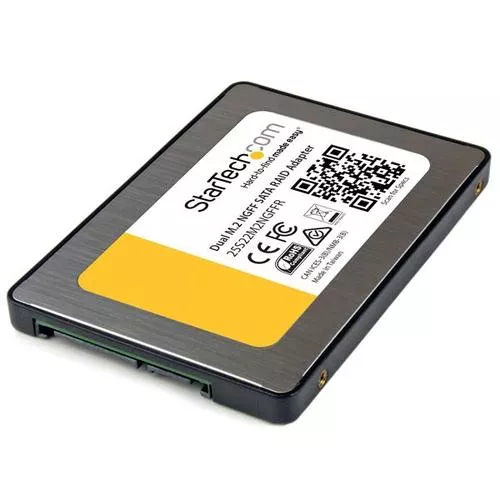 Manufacturer: STARTECH
Category: Interface Cards/Adapters
Short Description: StarTech.com Dual M.2 NGFF SATA Adapter with RAID, SATA, M.2, Black,Metallic,White,Yellow, 500000 h, ASMedia - ASM1092R, 6 Gbit/s
We have 1 supplier for this product
Supplier 1
Product Name: Dual M.2 NGFF SATA Adapter with RAID
Price 1: NZ$83.39 inc GST
Stock: 3
Ships from: Manukau, Auckland
Price & stock last updated: 2020-09-26 05:01:49
+Price History:
| Date: | Price: |
| --- | --- |
| 2019-06-11 | NZ$69.93 |
| 2019-08-26 | NZ$74.92 |
| 2019-08-27 | NZ$69.93 |
| 2020-01-17 | NZ$72.23 |
| 2020-01-29 | NZ$69.93 |
| 2020-01-30 | NZ$68.95 |
| 2020-02-01 | NZ$68.62 |
| 2020-04-23 | NZ$91.17 |
| 2020-07-01 | NZ$83.39 |
Doolz ID:
85229
Every effort is made to ensure the image(s) and/or product details are correct, but we cannot guarantee that they are. You should always check with us FIRST if you have specific requirements.
Info
StarTech.com Dual M.2 NGFF SATA Adapter with RAID
StarTech.com Dual M.2 NGFF SATA Adapter with RAID. Host interface: SATA, Output interface: M.2. Product colour: Black,Metallic,White,Yellow, Mean time between failures (MTBF): 500000 h. Chipset: ASMedia - ASM1092R, Data transfer rate (max): 6 Gbit/s, RAID levels: 0,1,BIG,JBOD. Width: 68 mm, Depth: 98 mm, Height: 8 mm. Package width: 131 mm, Package depth: 165 mm, Package height: 31 mm
Description
Boost your system performance by enhancing the capacity, speed and security of your data storage. This two-drive M.2 to SATA adapter lets you install two M.2 solid-state drives in a single 2.5- drive bay and configure a powerful RAID array. Build a RAID array to enhance system performance The dual M.2 to SATA adapter supports multiple RAID modes (RAID 0, 1, BIG) helping you to achieve greater SSD capacity or data redundancy, depending on your selected RAID mode. The SSD adapter also supports non-RAID operation (JBOD) when paired with a port-multiplying SATA controller, so both drives can be used independent of one another. Maximize file transfer speeds The dual SSD adapter lets you utilize the full potential of your SATA III controller. Using M.2 SSDs in place of a platter drive reduces your data transfer bottlenecks and gives you file transfer speeds of up to 6 Gbps. M.2 SSDs also save you money by reducing your power consumption over regular platter drives. The M.2 NGFF SATA RAID adapter also provides TRIM support to enhance the stability and performance of your M.2 NGFF SSDs. Get dependable drive protection The M.2 to SATA adapter features an enclosed housing that helps protect your NGFF (Next Generation Form Factor) SSD. The added protection gives you peace of mind when you are using your M.2 drives in applications that require an added level of durability such as hot-swap drive bays, or external SATA docking stations. The 25S22M2NGFFR is backed by a StarTech.com 2-year warranty and free lifetime technical support.
Specs
| | |
| --- | --- |
| Host interface | SATA |
| Output interface | M.2 |
| SATA revision | 3.0 |
| Port multiplier | Y |
| Internal | N |
| Product colour | Black,Metallic,White,Yellow |
| Mean time between failures (MTBF) | 500000 h |
| RoHS compliance | Y |
| Chipset | ASMedia - ASM1092R |
| Data transfer rate (max) | 6 Gbit/s |
| RAID levels | 0,1,BIG,JBOD |
| Operating temperature (T-T) | 0 - 50 -C |
| Storage temperature (T-T) | -10 - 85 -C |
| Operating relative humidity (H-H) | 5 - 95% |
| Width | 68 mm |
| Depth | 98 mm |
| Height | 8 mm |
| Weight | 55 g |
| Quick installation guide | Y |
| Package width | 131 mm |
| Package depth | 165 mm |
| Package height | 31 mm |
| Package weight | 118 g |
| Material | Plastic,Steel |
Lifetime Hits: 46 Doolz ID: 85229 Price is subject to change without notice. Price and Stock last updated 26 September 2020