Compulocks 250MPOSW holder Tablet/UMPC White Passive holder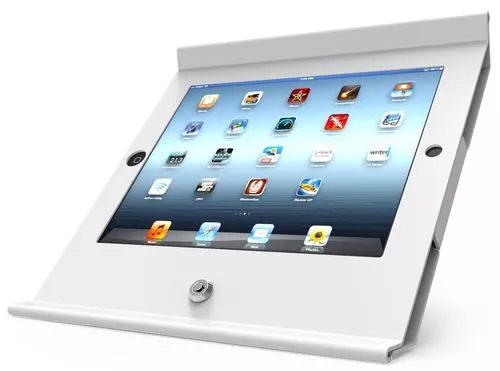 Manufacturer: COMPULOCKS
Category: Holders
Short Description: Compulocks 250MPOSW, Tablet/UMPC, Passive holder, Indoor, White
Get it now
Compulocks Slide Basic POS Stand iPad Mini -White
Our Price: NZ$63.25 inc GST
Stock at this price: 1
Ships from: East Tamaki, Auckland
Price & stock last updated: 2021-03-03 03:00:09
We have 1 supplier for this product
For pickups, choose the closest location to you. Otherwise, choose the cheapest or one that is in stock
Supplier 1
Product Name: Compulocks Slide Basic POS Stand iPad Mini -White
Price 1: NZ$63.25 inc GST
Stock: 1
Available at: East Tamaki, Auckland
Price & stock last updated: 2021-03-03 03:00:09
+Price History:
| Date: | Price: |
| --- | --- |
| 2019-06-11 | NZ$134.72 |
| 2019-07-01 | NZ$263.09 |
| 2019-08-16 | NZ$122.48 |
| 2020-01-02 | NZ$263.09 |
| 2020-01-16 | NZ$271.73 |
| 2020-01-28 | NZ$263.09 |
| 2020-01-29 | NZ$259.38 |
| 2020-01-31 | NZ$258.15 |
| 2020-02-17 | NZ$96.14 |
| 2020-04-21 | NZ$101.20 |
| 2021-01-05 | NZ$271.73 |
| 2021-02-19 | NZ$63.25 |
Doolz ID:
14892
Every effort is made to ensure the image(s) and/or product details are correct, but we cannot guarantee that they are. You should always check with us FIRST if you have specific requirements.
Info
Slide Basic M iPad Mini POS Stand, White
Compulocks 250MPOSW. Mobile device type: Tablet/UMPC, Type: Passive holder, Proper use: Indoor, Product colour: White
Description
The SLIDE Basic M like its larger counterpart is for securing an iPad mini Point-of-Sale, integrating our iPad POS Mini enclosure with a simple stand for standard POS functionality. The SLIDE Basic M offers an easy display solution as a POS register and will fit in to all retail settings. All SLIDE MINI enclosures have open access to the the inputs so that you can implement a variety of card readers and peripherals. Almost every card reader will fit with the SLIDE Basic including Square, PayPal Here, ID Tech Shuttle, ID Tech Unimag I and II, Magtek iDynamo and uDynamo, and many more. Our POS enclosures are constructed of high-grade aluminum making it tough and durable while still being lightweight. The SLIDE Basic MINI can be secured to a table or locked from behind with a cable lock so you can feel comfortable leaving it in any situation. Because this is your business we are talking about our iPad POS enclosure has a ventilated back to make sure your device won-t overheat and crash.
Specs
| | |
| --- | --- |
| Mobile device type | Tablet/UMPC |
| Proper use | Indoor |
| Product colour | White |
| Type | Passive holder |
| Compatibility | Apple iPad mini |
| Built-in speaker(s) | N |
| Power source type | Not supported |
| Width | 220 mm |
| Depth | 30 mm |
| Height | 205 mm |
Other Multimedia
Some of these may not exist; we do not manage these files
Lifetime Hits: 229 Doolz ID: 14892 Price is subject to change without notice. Price and Stock last updated 03 March 2021