POLY Trio 8500 video conferencing system Ethernet LAN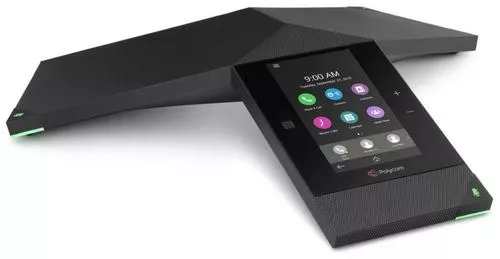 Manufacturer: POLY
Category: Video Conferencing Systems
Short Description: POLY Trio 8500, HD, 720p, 1280 x 720 (HD 720), 9:16, 180 - 14000 Hz, G.711,G.722
Get it now
POLYCOM TRIO 8500 IP CONFERENCE PHONE, POE
Our Price: NZ$1,986.05 inc GST
Stock at this price: Out of stock!
No ETA available
Ships from: Mount Wellington, Auckland
Log in to use Stock Alerts
Price & stock last updated: 2021-04-17 06:00:16
We have 1 supplier for this product
For pickups, choose the closest location to you. Otherwise, choose the cheapest or one that is in stock
Supplier 1
Product Name: POLYCOM TRIO 8500 IP CONFERENCE PHONE, POE
Price 1: NZ$1,986.05 inc GST
Stock: Out of stock!
No ETA available
Available at: Mount Wellington, Auckland
Log in to use Stock Alerts
Price & stock last updated: 2021-04-17 06:00:16
+Price History:
| Date: | Price: |
| --- | --- |
| 2019-06-11 | NZ$1.22 |
| 2019-06-12 | NZ$1,401.33 |
| 2019-06-27 | NZ$1,384.15 |
| 2019-07-02 | NZ$1,368.05 |
| 2019-07-19 | NZ$1,373.79 |
| 2019-10-11 | NZ$2,162.25 |
| 2020-01-07 | NZ$2,024.06 |
| 2020-01-17 | NZ$2,090.58 |
| 2020-01-29 | NZ$2,024.06 |
| 2020-01-30 | NZ$1,995.55 |
| 2020-02-01 | NZ$1,986.05 |
| 2020-03-06 | NZ$2,113.16 |
| 2020-04-21 | NZ$2,390.45 |
| 2020-04-21 | NZ$2,516.26 |
| 2021-01-12 | NZ$1,986.05 |
| 2021-01-22 | NZ$1,220.48 |
| 2021-02-01 | NZ$1,986.05 |
Doolz ID:
174154
Every effort is made to ensure the image(s) and/or product details are correct, but we cannot guarantee that they are. You should always check with us FIRST if you have specific requirements.
Info
Realpresence Trio 8500, SIP/PoE only, 180 - 14.000 Hz, 90 dB, LCD (720 x 1280 pixel)
POLY Trio 8500. HD type: HD, Supported video modes: 720p, Supported graphics resolutions: 1280 x 720 (HD 720). Frequency range: 180 - 14000 Hz, Voice codecs: G.711,G.722. Ethernet LAN data rates: 10,100,1000 Mbit/s, Supported network protocols: FTP, TFTP ,HTTP, HTTPS, Security algorithms: FTPES,HTTPS. Horizontal field of view: 360-. Display: LCD, Display resolution: 720 x 1280 pixels
Description
The new standard in conference collaboration for Skype for Business environments Polycom Trio- 8500 takes the ordinary conference call experience to the next level. Getting conference calls started shouldn-t be hard, frustrating or time consuming. Now with Polycom Trio 8500 in a Skype for Business environment, they won-t be anymore. Easily start calls on time, every time with the same interface you already use on your Skype for Business desktop client. And with Polycom-s legendary voice quality, you can be sure every syllable is crystal clear with Polycom HD Voice- technology. Legendary Voice Quality Polycom Trio 8500 is equipped with the industry-s most advanced sound quality including HD Voice and Polycom- Acoustic Clarity- technologies which combines industry-leading full duplex, echo cancellation, and noise reduction with advanced voice processing. With 14ft/4.3m of pick up, it is ideal for the midsize conference room. To ensure you experience an uninterrupted flow of ideas, Polycom-s patented NoiseBlock- technology will automatically detect non-speech noise and mute the microphones for you. They will automatically unmute when speech is detected, allowing your conference to keep moving seamlessly. Modern intuitive interface The Polycom Trio 8500 has a sleek and sophisticated design. A 5-inch color touch screen and the intuitive Skype for Business interface makes navigation simpler than ever, resulting in fewer mistakes, fast starts for every meeting and minimal training requirements. Convenient, illuminated mute buttons on each leg allows everyone in the room to manage the meeting. Use your personal devices-wired or wirelessly-via USB or Bluetooth for full, rich sound through cloud conferencing services or to place calls using your personal contacts list. Skype for Business/Office 365 certified Working together with Microsoft, we have designed the Polycom Trio 8500 to maximize the power of Skype for Business and Office 365. Extend the simplicity of Skype for Business from the desktop to the conference room-making it a consistent experience and ensuring broad user adoption.
Specs
| | |
| --- | --- |
| Product colour | Black |
| HD type | HD |
| HD-Ready | Y |
| Supported video modes | 720p |
| Supported graphics resolutions | 1280 x 720 (HD 720) |
| Aspect ratio | 9:16 |
| Frequency range | 180 - 14000 Hz |
| Voice codecs | G.711,G.722 |
| Noise reduction | Y |
| Echo cancellation | Y |
| Audio error concealment | Y |
| Built-in speaker(s) | Y |
| USB 2.0 ports quantity | 1 |
| Interface module USB 2.0 ports quantity | 1 |
| Ethernet LAN | Y |
| Ethernet LAN data rates | 10,100,1000 Mbit/s |
| Supported network protocols | FTP, TFTP ,HTTP, HTTPS |
| Security algorithms | FTPES,HTTPS |
| Horizontal field of view | 360- |
| Display | LCD |
| Display resolution | 720 x 1280 pixels |
| Microphone colour | Black |
| Microphone sensitivity | 90 dB |
| Microphone frequency | 160 - 22000 Hz |
| Operating temperature (T-T) | 0 - 40 -C |
| Operating relative humidity (H-H) | 5 - 95% |
| Storage temperature (T-T) | -20 - 70 -C |
| Width | 309 mm |
| Depth | 356 mm |
| Height | 70 mm |
| Weight | 985 g |
| Package width | 360 mm |
| Package depth | 410 mm |
| Package height | 90 mm |
Other Multimedia
Some of these may not exist; we do not manage these files
Lifetime Hits: 118 Doolz ID: 174154 Price is subject to change without notice. Price and Stock last updated 17 April 2021