POLY Blackwire 5210 Headset Head-band Black,Red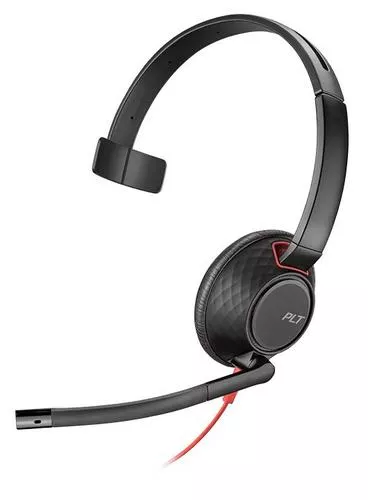 Manufacturer: POLY
Category: Headphones & Headsets
Short Description: POLY Blackwire 5210, Headset, Head-band, Calls & Music, Black,Red, Monaural, In-line control unit
Get it now
PLANTRONICS BLACKWIRE C5210 UC MONO USB-A & 3.5MM CORDED HEADSET
Our Price: NZ$147.79 inc GST
Stock at this price: 7
Ships from: Mount Wellington, Auckland
Price & stock last updated: 2021-04-15 06:00:24
We have 1 supplier for this product
For pickups, choose the closest location to you. Otherwise, choose the cheapest or one that is in stock
Supplier 1
Product Name: PLANTRONICS BLACKWIRE C5210 UC MONO USB-A & 3.5MM CORDED HEADSET
Price 1: NZ$147.79 inc GST
Stock: 7
Available at: Mount Wellington, Auckland
Price & stock last updated: 2021-04-15 06:00:24
+Price History:
| Date: | Price: |
| --- | --- |
| 2019-06-11 | NZ$155.71 |
| 2019-07-19 | NZ$149.22 |
| 2019-09-16 | NZ$151.43 |
| 2019-11-04 | NZ$150.60 |
| 2020-01-07 | NZ$142.66 |
| 2020-01-17 | NZ$147.35 |
| 2020-01-29 | NZ$142.66 |
| 2020-01-30 | NZ$140.65 |
| 2020-02-01 | NZ$139.98 |
| 2020-03-04 | NZ$158.87 |
| 2020-03-20 | NZ$198.59 |
| 2020-04-21 | NZ$209.04 |
| 2020-05-06 | NZ$167.50 |
| 2021-04-14 | NZ$147.79 |
Doolz ID:
173832
Every effort is made to ensure the image(s) and/or product details are correct, but we cannot guarantee that they are. You should always check with us FIRST if you have specific requirements.
Info
Mono, USB, 3.5 mm, DSP, 20 Hz-20 kHz
POLY Blackwire 5210. Product type: Headset, Wearing style: Head-band, Recommended usage: Calls & Music. Connectivity technology: Wired, USB connector: USB Type-A. Ear coupling: Supraaural, Headphone frequency: 20 - 20000 Hz. Microphone type: Boom, Microphone frequency: 100 - 8000 Hz
Key Features
Astounding audio

Noise-canceling mic with flexible boom filters out background sound

Easy to use / simple

Intuitive inline controls to manage calls

All day comfort

-Cushioned, dual headband sling design

Advanced connectivity

Variants include both universal USB/USB-C type connectivity
Description
The Blackwire 5200 Series fits your busy workday. Easy to use, USB/ USB-C and 3.5 mm connectivity options let you work on a variety of devices. And it's so comfortable, you'll be able to wear it all day. The Blackwire 5200 Series-connect, work, seamlessly. All-day comfort and universal connectivity When you need to wear a headset all day, the Blackwire 5200 Series has you covered in the utmost of comfort. Ergonomically designed, it's comfortable enough to wear all day, on your longest calls. To make it easier for you to work anywhere in the office, it also gives you the freedom to plug into the compatible device of your choice: All models are available with 3.5 mm connectivity and you can choose USB or USB-C. Outstanding audio quality for better productivity Today-s workplace can be noisy and filled with distractions. With the Blackwire 5200 Series, you-ll be able to hear and be heard more clearly, enjoy conversation privacy and be more productive. That-s because soft, conforming ear cushions provide passive noise canceling, while a precisely tuned microphone masks nearby conversations. A headset that works the way you do Adjust the headset to fit the way you work. Dedicated, customizable mute settings allow you to take calls confidently, ensuring you-re always heard. Set the language for voice alerts, and you-re in even greater control of your conversation.
Specs
| | |
| --- | --- |
| Product type | Headset |
| Wearing style | Head-band |
| Recommended usage | Calls & Music |
| Product colour | Black,Red |
| Headset type | Monaural |
| Control unit type | In-line control unit |
| Certification | Skype for Business |
| Connectivity technology | Wired |
| 3.5 mm connector | Y |
| USB connectivity | Y |
| Bluetooth | N |
| 2x 3.5 mm connectors | N |
| USB connector | USB Type-A |
| Ear coupling | Supraaural |
| Headphone frequency | 20 - 20000 Hz |
| Microphone type | Boom |
| Microphone frequency | 100 - 8000 Hz |
| Noise-canceling | Y |
| Microphone mute | Y |
| Carrying case | Y |
| 2.5 mm connector | N |
| Digital Signal Processing (DSP) | Y |
Other Multimedia
Some of these may not exist; we do not manage these files
Lifetime Hits: 103 Doolz ID: 173832 Price is subject to change without notice. Price and Stock last updated 15 April 2021